×
Tutorial and Download Location
GIT Concepts & Commands
| | |
| --- | --- |
| | |
Using GIT bash and print version and help panel
| | |
| --- | --- |
| | First Git Commands |
GIT Functions
Working Directory, Staging Area and Repositories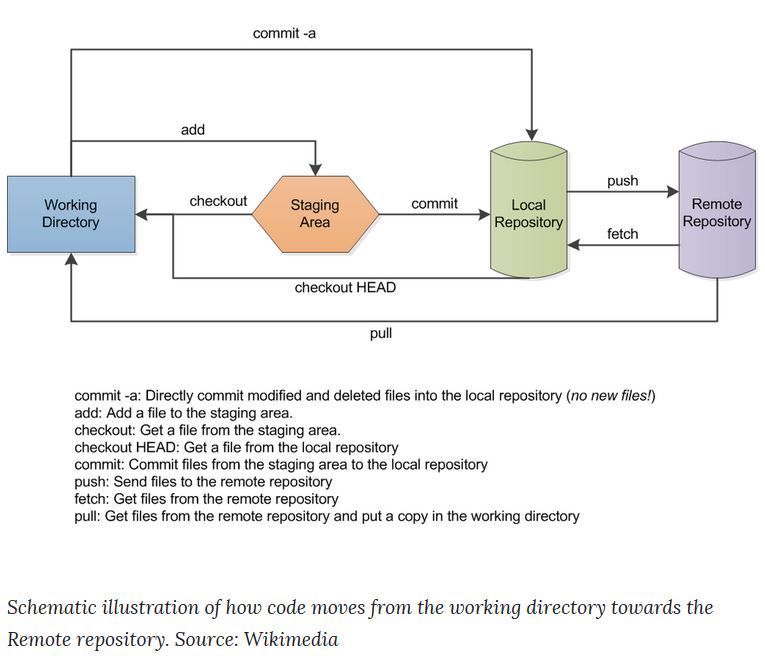 Above image is copied from: https://sc5.io/posts/how-to-manage-your-wordpress-codebase-with-git/#gref
Init Local Git Repository
Setup Working Directory, Staging Area and Local Repository
Run Scripts:
/d/GIT/gitInit.sh – Init/Reset GIT repository


Init Git Repository

The Local Git Repository is stored in .git directory
To remove the Git Repository run: rm -rf .git
Using .gitignore
Specify intentionally untracked files to be ignored
Run Scripts:
/d/GIT/gitIngnore.sh
Mark files/directories to be igrore by GIT operations
Adding some files to the Local Reposiory by running git commit
Adding 2 files to the working area
Details
Run Scripts:
/d/GIT/gitCommit.sh – Add diffs to our Local GIT repository


Step 1

Adding 2 files to the staging area
Commit the changes
Details
Step 2: Commit the data
After git commit the staging area gets cleaned
Create an GitHup account and setup an GIT Remote Repository
| | |
| --- | --- |
| | |
GIT Operations tracked by GIT diff command
Git Operation Diagramm
Add. Info
Git Storage details
Workspace or Working Directory
Git Index or Staging Area
Local Repository
Remote Repository
Setup
GIT Status
Note:
SHA == Secure Hash Algorithm


Run Scripts:

/d/GIT/gitReset.sh – Reset GIT repository
/d/GIT/gitDiffSetup.sh – Add file

Git Status Details

All outstanding operations are Commited
Local an Remote Repository are in Sync
The SHA value for Local And Remote is: d525f1b
There are 2 Commits in your Local Repository
First Step: Edit File test.js
Verify GIT Status

Run Scripts:

/d/GIT/gitDiff.sh – Check for Differences


Git Status Details

test.js was modified but not added to the Staging Area
Run git diff HEAD to check for Diffs between Working Dir and Local Repository
Use git add … to add a file the the Staging Area
Add the test.js to the Staging Area and commit the Transaction
Verify GIT Status
Run Scripts:
/d/GIT/gitDiff2.sh – Check for Differences


Git Status Details

git add scripts/test.js adds the file to our Staging Area
Run git diff HEAD to check for Diffs between Working Dir and Local Repository
Run git diff –staged to check for Diffs between Staging Area and Local Repository
Both diff commands marks the line which we have added
Using Branches
Step 1: Create Default Branch with C0,C1,C2 Snapshots
Add. Info
Git Branch Details
Master points to C2 Snapshot
Run Scripts:
/d/GIT/gitBranchSetup.sh – Initial Script
Step 2: Checkout Branch iss53
Add. Info
Git Branch Details
Master points to C2 Snapshot
iss53 points to C2 Snapshot
Run Scripts:
/d/GIT/gitBranch1.sh – Checkout iss53
HEAD points to iss53
Step 3: Implement JS code for C3 Snapshot and finally Commit Branch iss53
Add. Info
Git Branch Details
Master points to C2 Snapshot
iss53 points to C3 Snapshot

>>> Edit test.js before running script !



Run Scripts:
/d/GIT/gitBranch2.sh – Commit some data an branch iss53
HEAD points to iss53
Step 4: Checkout master Branch and create new hotfix branch
Add. Info
Run Scripts:
/d/GIT/gitBranch3.sh – Create hotfix branch
HEAD points to hotfix branch aka master branch
Step 5: Modify test.js, Implement Hotfix on Branch hotfix and Commit the data
Add. Info
Git Branch Details
Master points to C2 Snapshot
iss53 points to C3 Snapshot
hotfix points to C4 Snapshot

>>> Edit test.js before running script !




Run Scripts:

/d/GIT/gitBranch4.sh – Commit some data on branch hotfix
HEAD points now to hotfix branch
Step 6: Merge master and hotfix Branch
Add. Info
Git Merge Action
You'll notice the

phrase "fast-forward"

in that merge.
C4 pointed to by the branch hotfix was directly ahead of the commit C2
Git simply moves the pointer forward.


Git Branch Details

Master points now to C4 Snapshot
iss53 points to C3 Snapshot
hotfix points to C4 Snapshot
Run Scripts:
/d/GIT/gitBranch5.sh – Merge master and hotfix Branch
HEAD points now to master/hotfix branch
Step 7: Delete hotfix Branch and continue work on iss53 branch
Add. Info
Run Scripts:
/d/GIT/gitBranch6.sh – Delete hotfix Branch and checkout iss53 branch
HEAD points now to iss53 branch
Step 8: Implement JS code for C5 Snapshot and finally Commit Branch iss53
Add. Info
Git Branch Details
Master points to C4 Snapshot
iss53 points to C5 Snapshot

>>> Edit test.js before running script !



Run Scripts:
/d/GIT/gitBranch7.sh – Commit data on branch iss53
HEAD points to iss53
Step 9: Try to merge iss53 branch and master branch
Add. Info
Git Merge Details
Master points to C4 Snapshot
iss53 points to C5 Snapshot

>>> NOTE: Merge fails !!



Run Scripts:
/d/GIT/gitBranch8.sh – Merge branches
HEAD points to master
Step 10: Display Diffs between common Ancestor C2 and iss53 branch and master branch
Add. Info
Diffs between Ancestor C2/C4 and C2/C5 Snapshot
C2 is common ancestor for C4 and C5 Snapshot
Running Git Mergetool
Step 11: Run git mergetool and fix Merge Conflict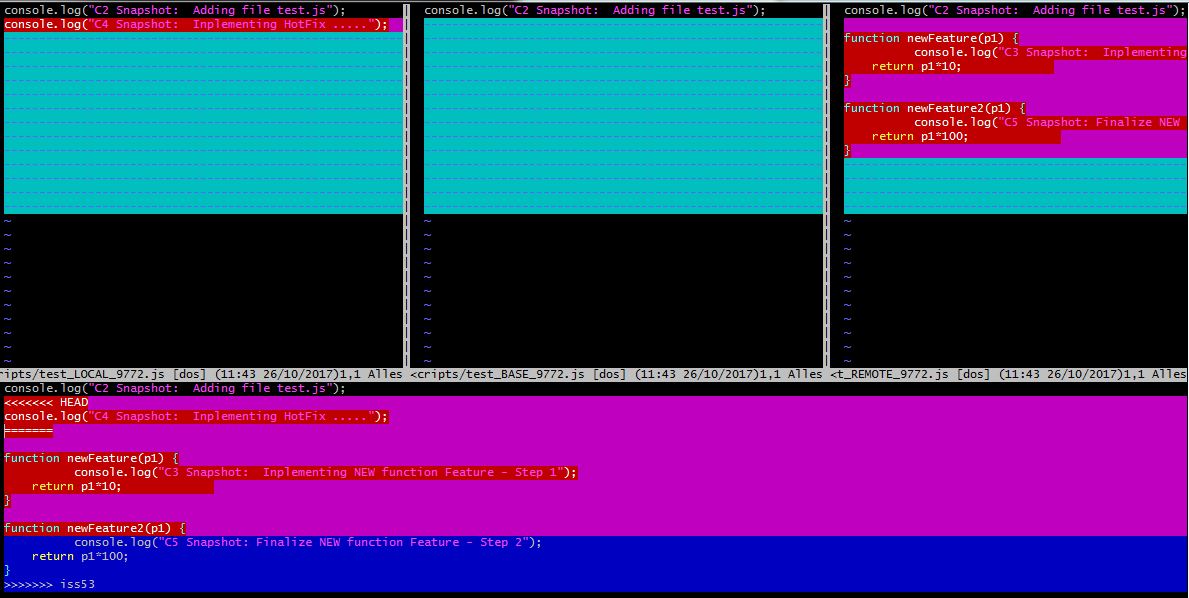 >>> Merge tool
Start GIT mergetool by running: $ git mergetool
Left window shows the file test.js for the master branch at Snapshot C4
Window in the middle shows the file test.js at Snapshot C2
Right window shows the file test.js for the iss53 branch at Snapshot C5

>>> Merge Conflict Resolution
master and iss 53 show no real conflict
Comment out the tags written by the mergetool
Finally leave the mergetool with vim command :wqa
Commit the data after MERGE request
Step 12: Commit the Changes done by GIT mergetool
Add. Info
Git Branch Details
Master points to C6 Snapshot
iss53 points to C5 Snapshot

>>> NOTE: test.js was corrected in step 11 by using GIT mergetool !



Run Scripts:
/d/GIT/gitBranch9.sh – Commit data after MERGE reequest
HEAD points now to master branch
Branch iss 53 can NOW be deleted !
Rename a remote branch


Rename the local branch
$ git branch --move STUV-184_TDB STUV-188


Save the new branch to origing
$ git push origin --set-upstream STUV-188

warning: redirecting to https://git.informatik.fh-nuernberg.de/study-monitor/pythia-the-counselor.git/
Total 0 (delta 0), reused 0 (delta 0)
remote:
remote: To create a merge request for STUV-188, visit:
remote:   https://git.informatik.fh-nuernberg.de/study-monitor/pythia-the-counselor/merge_requests/new?merge_request%5Bsource_branch%5D=STUV-188
remote:
To https://git.informatik.fh-nuernberg.de/study-monitor/pythia-the-counselor
 * [new branch]      STUV-188 -> STUV-188
Branch 'STUV-188' set up to track remote branch 'STUV-188' from 'origin'.


Delete the old branch 
$ git push origin --delete STUV-184_TDB

warning: redirecting to https://git.informatik.fh-nuernberg.de/study-monitor/pythia-the-counselor.git/
To https://git.informatik.fh-nuernberg.de/study-monitor/pythia-the-counselor
 - [deleted]         STUV-184_TDB


Add current changes to an NEW Branch

Valdiate  Status: 
  git status
  On branch develop
  Your branch is ahead of 'origin/develop' by 1 commit.
   (use "git push" to publish your local commits)

  Changes not staged for commit:
    (use "git add ..." to update what will be committed)
    (use "git checkout -- ..." to discard changes in working directory)

        modified:   application/src/main/java/de/thnuernberg/in/stuv/pythia/application/config/ConfigurationService.java

Add changes to new Branch 
  git branch STUV-330
  git checkout STUV-330

strong>Valdiate  Status: 
On branch STUV-330
Changes not staged for commit:
  (use "git add ..." to update what will be committed)
  (use "git checkout -- ..." to discard changes in working directory)

        modified:   application/src/main/java/de/thnuernberg/in/stuv/pythia/application/config/ConfigurationService.java


Reference